NEW YEARS RESOLUTION
---
---
Christmas is done and dusted so it's time to start thinking about the next party - New Years! We are all about discovery at Grapes and Lager and what a better way to bring up the New Years than trying an alternative to wine and beer - Cider. One of our favourite types of cider is this French brand - Ecusson. It is not your normal sweet cider but has a more defined traditional taste. It will surprise you!
Since 1919, the House of Ecusson has reinvented cider through their original creations. At Livarot in the heart of Normandy, Ecusson selects and assembles artful ciders with flavours of nearly 20 of the best varieties of cider apples from Normandy, to create refined and delicately fruity ciders.
---
Ecusson Brut Rose Apple Cider - Medium Dry
You won't get a cider like this anywhere else. It is the original and only naturally pink cider made anywhere in the world!
The Ecusson Cidre Brut Rose Apple is the first and only naturally pink cider. Its development from the Red Delight apple with red flesh brings a dress gently De
w, a nose of red fruit and fruity and tangy. The cider starts fruity, nicely fresh
an
d tart. There is a slight strawberry aroma present, with interesting cider apple flavours. The strawberry-like flavour remains long in the aftertaste with crisp, tart cider apple flavours.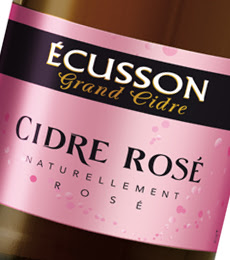 BUY: $68 - Case of 18
---
Ecusson 'Poire' Pear Cider - Medium Dry
The 
Ecusson 'Poire' is derived from the slow fermentation of pear juice
, with a nose of white fruit and a fruity and refreshing taste. It has a 
clear very pale yellow pour with lasting bubbles. Nose is slightly vegetal, apple juicy, mossy, sugary, and wood. Taste of pears, very sweet, apple and skin, very flavourful, tart, soft and appropriate carbonation. A great perry!

BUY: $56 - Case of 6 
---
Ecusson Cider - Brut Apple
The 
Ecusson Cidre Brut Apple
has a deep yellow colour and elegant fruity nose with 5% alcohol
. 
Pours a deep gold with bright, fruity overripe apples and a pastry aftertaste. Dry-ish flavor with fresh tart green apples. Lively carbonation, with a spritzy mouthfeel. A refreshing, well-made cider.
$64 - Case of 18
Enjoy :)